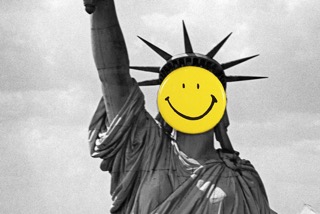 No. 203 (4-11-18)
Clifton Ware, Editor-Publisher
It seems that America is no longer to be counted among the top ten nations for high levels of happiness. Is anyone surprised to learn this? I read an editorial by William Falk in a recent issue of The Week magazine that addresses this topic succinctly and accurately. Here it is in its entirely:
For much of the year, Finland has but a few hours of light and temperatures well below 0 degrees F. Yet the Finns are the happiest people in the world, according to the U.N.'s annual World Happiness Report. Norway is second, followed by Denmark and Iceland (also cold and dark). The U.S. dropped four places to 18th. Now, happiness is no doubt hard to quantify, and this ranking should be taken as more suggestive than definitive. But why does our powerful and wealthy nation—whose founding promise is the individual pursuit of happiness—consistently fall into a second tier … and keep sinking?